Three Rivers Media Corporation
Thanks for your interest in Three Rivers Media stations and digital products! We are so excited to serve our listeners and advertisers. 
Three Rivers Media may be named for the three rivers of Pittsburgh where our shareholders call home, but we are hyper-local. Our three stations boast the three strongest FMs in Wythe County as well as serve Bland, Carroll, Smyth, Grayson, Pulaski, and Montgomery counties as well as Bluefield, WV and Mt. Airy, NC. With our streaming broadcast of WXBX, we stretch the bounds of broadcast and serve the greater region. 
WYVE is Your Hometown Sound and our heritage station! On air since September 1949, WYVE boasts over 70 years on air. We take our history seriously and strive to make sure WYVE serves the community just as much today as it did in 1949 with community interviews, local news and weather, locally produced special interest shows, AP News, and the Country music that our listeners ask to hear over and over again.
WXBX is your Kool Station for Fun Music. We keep the party going with WXBX. Kool 95.3 plays your favorite music from the 60s-early 90s. WXBX is also home to local high school sports, Virginia Tech football and basketball, AP News, and more. Most weekends you can find the WXBX Road Crew out and about at local events.
WLOY serves up Great American Music, Virginia Style! This Soft AC Variety station has something for everyone. WLOY's custom format boasts everything from the softer side of Country and Rock to current hits from Taylor Swift and Coldplay to your favorite crossover soundtrack and musical tunes. Now heard on FM as well as AM, make WLOY your favorite station and the best-kept secret on the air.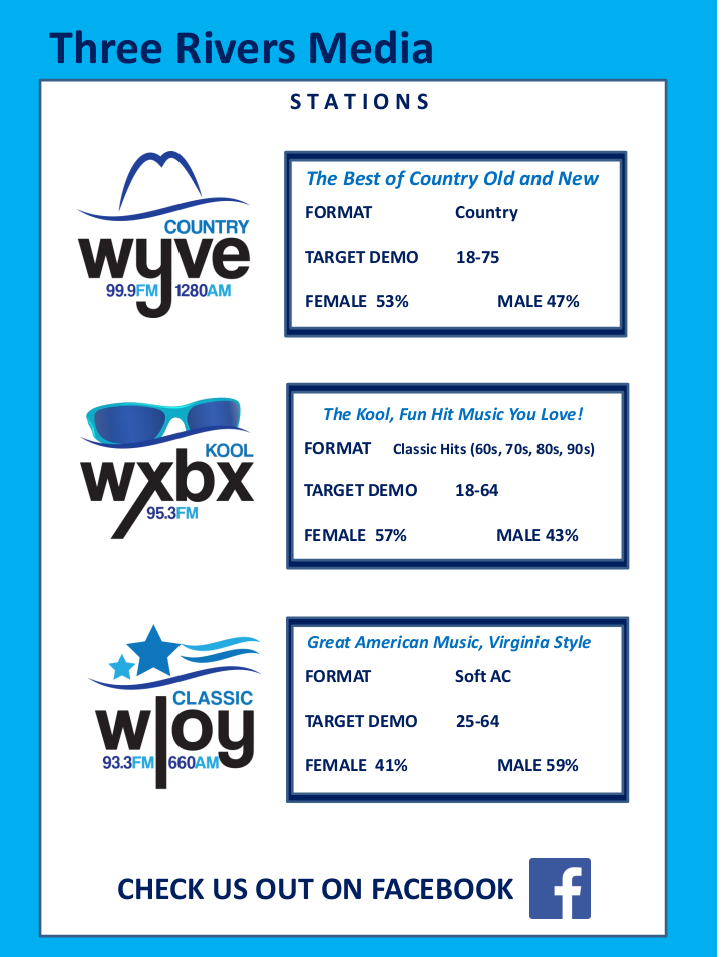 Connect with our media consultants to boost your business! We offer per spot, package, and digital advertising products to help your business grow and get feet in your door. We specialize in local and regional advertising. Don't get buried overnight! We have avails in all dayparts, for all budgets.
To connect with us about advertising, shoot us an email here